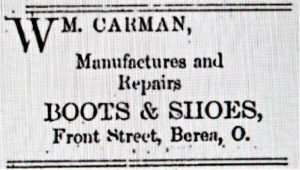 The Carman family is notable for being one of the early families in the Berea area. Henry (1789-1869) and Hannah Jones Carman (1795-1863) came to Middleburgh Township from the state of New York and owned significant amounts of land in town. Their son William was born in the Berea area in 1816 and married Caroline Staples on May 29, 1844. Their son, William Henry Carman was born Oct 1, 1844, the oldest of 8 children according to the 1850 and 1860 federal census. Siblings included James, George, Edward, Charles, Hannah, Cyrus, and Fred- though Edward unfortunately does not appear in the 1860 census.
In 1860 William Henry Carman was 16 years old and was working as an engineer, likely in the quarries, and his father William was a shoemaker. In October of 1861, William Henry enlisted in the Light Artillery, Company E, 1st Regiment and served for the entire Civil War, being discharged on July 10, 1865. William Henry learned the trade of a Blacksmith during his service and carried on the trade after the war. He was later deemed hearing impaired as a result of his service. His father William also enlisted in the same unit starting in 1864 and was discharged in 1865.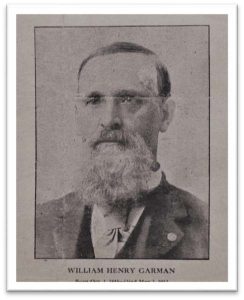 ​William Henry married Miss Adelaide Engle from Royalton, Ohio after his discharge in 1865, and by 1880 William H and Adelaide were living at 103 Bevans Street while he was employed as a quarryman. They had 3 children by that time, Charles, Albert, and Harvey. Of note, his mother Caroline Carman and her son Wilbert (age 11) were living next door. It is thought that William Henry was responsible for forming (and participating in) the first brass band in Berea around 1886 that continued to perform locally for many years. Harvey was a student in the first graduating class of Berea High School in 1886, and both Charles and Harvey enlisted in Company D of the Berea Light Guard (National Guard), in 1884 and 1886 respectively. Caroline Staples Carman died in June of 1887 and William Carman died in July of 1890; both are buried in the Adams Street Cemetery along with parents Henry and Hannah.
The federal census of 1900 shows the household of William Henry included Adelaide, now aged 52, Albert aged 33, Harvey aged 31, and Alice aged 19. Charles was married and living in Willoughby doing statistical work, while William Henry and son Albert were employed as Blacksmiths in Berea. Harvey was now working in the Crawford Meat Market on Front Street, eventually marrying the boss's daughter, Miss Ida Crawford, child of J.E. and Amy M Lawrence Crawford, on Feb. 19, 1903. His sister Alice married Robert Pillars, son of AJ and Mabelle Parker Pillars on Nov. 25, 1904.
Seminary Street was the residence of 65-year-old William Henry, wife Adelaide, and son Albert in 1910. Both William H and Albert were still working as Blacksmiths. William Henry Carman died on May 3, 1912 of myocarditis and mitral insufficiency, and Albert passed away a short time later on Jan. 9, 1913 at age 45 of lobar pneumonia and a cerebral hemorrhage. Both are buried at Woodvale Cemetery in section 2.
Harvey Carman along with J T Yule (both pictured below), continued to work at the Crawford Meat Market and jointly owned an ice house that helped the grocery business to flourish. The ice house was literally washed away during the flood of 1913. Adelaide Engle Carman died of pneumonia after a hip fracture in May of 1922- something we rarely hear about after such a fracture today. Harvey's older brother Charles died unexpectedly in 1924 while living in Lakewood and was buried in Woodvale. Harvey was still working as a butcher in 1930 and died in 1933. His wife Ida died in 1962, and they are both buried in the Woodvale Cemetery.