The Adams Street Cemetery is one of the early burial grounds in Berea, with the oldest burial being Albert Hinman in 1834. Over the years, the cemetery became rather neglected and later had issues with burials being disturbed/destroyed by a landslide on the north end caused by the quarry works. The cemetery officially became the village burying ground on September 17, 1861 with a board of trustees assuming control and R.B. Dewey appointed as the first sexton. When Woodvale became the Township cemetery, the use of the Adams Street cemetery dwindled. Many of the graves were removed to Woodvale over the years, and a project at Baldwin Wallace was started in 2007 to document burials and confirm locations of gravesites at Adams Street. Many of the relocated graves are documented at Woodvale with headstones, some appear in the handwritten records, while some of the graves that are assumed to have been removed remain a mystery as records were destroyed by fire or are incomplete for the earlier burials.
​One of the relocated graves is that of Thomas James Quayle who was born in Isle of Man in 1829. It is unclear when Thomas arrived in the United States, but he appears in the Berea tax records in 1856. He married Alice Teare (1831-1910) in November of 1857, and in 1860 he was employed as a tailor. Thomas and Alice had five children who survived to adulthood: Frederick (1859-1890), Thomas James (1861-1917), Walter (1867-1912), Mona Alice (1869-1895), and Effie (1874-1971). The Adams Street Cemetery records indicate 5 other Quayle infants were born between 1863 and 1871 but it is unclear if they were removed to Woodvale. The census of 1870 shows a young man by the name of John Waterson from the Isle of Man living with the family and likely apprenticing in the tailor shop. In 1880, the family was living at 106 Bevans Street, and both Thomas Sr. and Jr. along with Frederick were working as merchants and tailors. Thomas James Quayle Sr. died in 1883 and was buried at the Adams Street Cemetery, and later moved to Section 9, lot 8 in Woodvale which had been purchased by Frederick.
Frederick and Nellie Quayle had 3 children while he was employed in the family tailoring business in Berea. He died of consumption in 1890 at 31 years of age, and was buried at Woodvale in Section 9, Lot 8.
In 1885 Thomas James Quayle Jr. married Harriet (Hattie) Vancise/Van Sise (1857-1934) and they had 3 children: Thomas James (1885-1918), Philip (1894-1931), and Dorothea (1898-1981). Thomas Jr. went on to become mayor of Berea in 1898-99. Unfortunately, during his tenure he had to deal with the explosion and fire on August 14, 1898 that took out much of the Triangle, the suspicious fires of two vacated buildings on the South side, and the August 1899 fire that destroyed twenty business blocks on Factory and Front Streets. In 1900 Thomas was listed as a life insurance salesman, and in 1910 he was living in Sheffield, Pennsylvania managing a plaining mill. He then moved to Oberlin working as a lumbar dealer, where he died May 13, 1917. His son Thomas, died fighting in France; Philip won international accolades for Spark Photography, Sound Photography and ballistic expertise, and Dorothy did graduate work at Columbia University and studied at the American Academy in Rome before teaching in the Cleveland public schools for 35 years. They are all buried in Oberlin.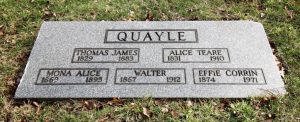 Walter Quayle was noted as being one of the Special Officers in 1896 that arrested Louis Washtok in a local saloon without a warrant, which brought the unrest among the striking quarry workers to a head, leading to the start of the quarry riots. He died of nephritis in 1912. Mona Alice Quayle died of heart failure on July 12, 1895 at age 26, while Effie C Quayle lived most of her life in Berea, and died at age 96 in Cambridge, Guernsey County, Ohio in 1971. They are buried in Woodvale.