Edward Corlett Christian was born Aug 25, 1833 on the Isle of Man, the youngest of nine children of James and Margaret Corlett Christian. His mother passed away in 1841, and he later was apprenticed as a tailor. He departed England for the United States on the ship "Constitution", arriving in New York City on April 15, 1853. He soon moved to Berea and started working as a tailor for Thomas Quayle on Bridge Street. Quayle had arrived from the Isle of Man recently as well.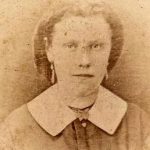 On November 26, 1857 at the home of Thomas J. Quayle on Seminary St., Edward married Miss Maria Susan Simons who had immigrated from England in 1842. Their first son, George Edward, was born in November, 1858 in Berea. The family grew with the additions of: Francis Emerson in May, 1860; Frederick Howard in July, 1862; Sarah in September, 1865; Hugh Stowell in March 1867; Emma in October 1870; Willis Alfred in July 1873; Alice "Allie" in September 1875; and Ralph Emerson in August 1878.
In 1861 Edward opened his own tailor and furnishing store on Front Street. He was one of the founding members of the Masonic Lodge, Chapter No. 134, and was very involved in the growth of Berea. He served as the Treasurer in 1878-9 and president of the board of education in 1879. In 1879 Berea was prospering and the Christian clothing store was one of four tailoring business in Berea. In 1896, Edward Christian was the mayor and witnessed/dealt with the quarry riots as well as the great fire of 1897. It was noted that during the fire, he helped to save valuable books and papers from the Council Hall. His store escaped the fire that year, but sustained damage during the next great fire of 1899. In the 1900 census the Christian home was located at 95 Beech Street, and other documentation notes that he was 5 feet and 5 inches tall.
Maria Christian passed away June 26th, 1911 of pulmonary tuberculosis and Edward Christian died Feb 6th, 1917 at age 83 after falling on the ice and subluxing (likely dislocating) his hip and going into shock. At the time, he was the oldest merchant and longest continuous business in Berea. Ironically, his son George who had been living in Weymouth, died the next morning. He had been suffering from Bright's Disease worsened from a fall from a tree the year before as well as chronic heart disease. The two funerals occurred together from the family home on Beech Street, and all three are buried in section B, lot 51 in Woodvale.
Francis (Frank) Emerson Christian died on Sep 24th, 1873 at the age of 13 from typhoid fever and is buried at Woodvale, section B, lot 52.
Frederick Howard Christian died Aug 27th, 1882 at the age of 20 of tuberculosis and is also buried at Woodvale.
Sarah Maria Christian married Orville B. Waltz in March, 1887 and had three children. She died at age 72 and was buried in Independence, Ohio.
Hugh Stowell Christian married Abbie Clark in April of 1892 and was working in Berea as a carpenter. In 1930 he was retired and living in Pasadena, California. He died January 5th, 1933 at the age of 65 and is buried in Altadena, California.
Emma Florence Christian married William Southam in April of 1899, and they were living at 130 Beech Street just down the street from the family home. They had two daughters. Emma died February 16th, 1941 and is buried in section 7, lot 18 at Woodvale.
Willis Alfred Christian married Minnie Krummroy in 1898, then Bertha Rice on January 3rd, 1907. They lived in Vermilion where Willis was selling shoes and they had four children. Willis died December 30th, 1941 in Vermilion and is buried in Woodvale section 7C, lot 37 with his wife Bertha.
Alice "Allie" Bertha Christian married Richard Carpenter of Olmsted Township in September of 1899. They had 3 children, but only one survived to adulthood. Richard was an auditor for the Western Ohio Electric railway and died in Dayton in 1911. Allie died in July, 1944, and they are buried in Coe Ridge Cemetery.
Ralph Emerson Christian married Matilda "Tillie" Fischer in Wapakoneta in June of 1904 and they had 5 children, 3 surviving to adulthood. They eventually returned to the Middleburg Heights area where Tillie died in 1959 and Ralph died in September of 1960. Ralph was a veteran of the Spanish American War and worked as a freight agent for the Detroit and Cleveland Navigation Company. Both are buried in Woodvale Section B, lot 52.