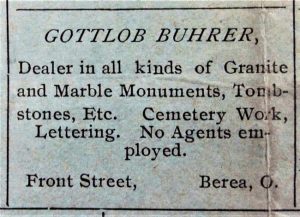 Gottlob/Gottlieb Buhrer was born in Switzerland in March of 1851. He immigrated to the United States in 1870 along with his wife Kathrina Ehrat Buhrer who was born in 1853. Both became naturalized citizens in 1880. A Buhrer child was listed as being buried in the Adams Street Cemetery in March of 1873, but there is no other information. There was likely a son John Buhrer born to Gottlob and Kate, who lived only a month in 1875 and was also buried in the Adams Street Cemetery, but the records are sketchy. It was not an uncommon thing to name another child after the one who had not survived, and records show a son John G. Buhrer was born in Berea on August 15, 1876. In 1880 the Federal Census shows the family consisting of Gottlob age 29, Kate age 27, Kathrina age 5, John age 3, and Emma age 1 all living on Mulberry Street. Gottlob was employed as a stone cutter at that time, likely in one of the quarries or for a monument business. Daughters Helen and Elizabeth were born to the Buhrer couple in 1883 and 1885 respectively. In 1888 Gottlob bought Kirk's blacksmith shop at the triangle of Riverside and Front Streets (site of the former Sohio station) along with the land for $300. He opened the Buhrer Marble and Granite Works, proudly providing custom monuments, many of which are located at Woodvale.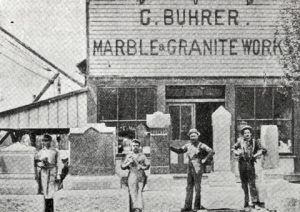 The early 1890's were not kind to the Buhrer family as son John G. died June 2, 1891 from a fractured skull incurred during an accident and was buried in Woodvale. Kate E. Buhrer died October 16, 1894 and as was common for the day, Gottlob remarried fairly soon. He wed the widow Francisca Miller on August 28, 1895 who was born in Germany in October of 1855, immigrating to the United States in 1870. Of note in the annals of Berea history, during the great fire of 1897 Gottlob was credited along with C. Eckert and E. Stanahan, with helping to save the east side of the triangle.
In the 1900 census records, Gottlob was 49 years old and still working as a "marble cutter". His wife Frances was 45 years old, daughter Helen was 15 years old and attending school; daughter Katherine/Kate was 25 years old and employed as a dressmaker locally, while Elizabeth at age 17 was working as a servant. The family also had young 10-year-old Charles Walter living with them as a servant while he was attending school. Gottlob passed away from a stroke/paralysis on December 1, 1903 and was buried in Woodvale, section 9, lot 33 along with Johnnie. His shop was taken over by partners Otto Seidler and A. B. Hess. The monument works was eventually razed in 1927, and Hess Monuments relocated to 232 East Bridge Street.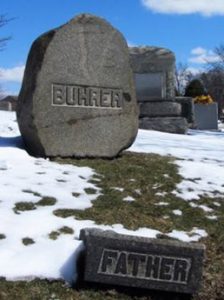 Kathrina/Kate married Ernest Woodruff (born April 11,1877 in Illinois) on Aug 15, 1900 and had two children, Amelia born in Berea in 1902, and Dorothy in 1905 while living in Wickliffe. The Woodruff family moved to York township in Medina County by 1910 and were working their farm. In 1925, her husband Ernest died, and was buried in section 3 of Woodvale, and Kate supported herself by working as a clerk in a Medina dry goods store. She died in September of 1971 and was buried with her husband in Berea.
Elizabeth (Libbie) and Helen Buhrer were living in Cleveland as boarders in 1910 with Elizabeth working as a cashier in a restaurant, and Helen working as a stenographer. Helen married William Stevenson in 1912, and Elizabeth married John Kindler in 1914. Helen died in 1970, and her husband in 1972 and they are buried near her parents in section 9. Frances Miller Buhrer was living with her son Caspar Miller and his wife and son in Cleveland in 1910 and 1920, but it is unclear when she passed away. It is also not clear what happened to little Emma Buhrer after 1880.