Enoch G. Watrous was born in 1791 in Connecticut to Gideon and Fanny Franklin Watrous, and married Miss Abigail Green who was born in New York in 1791. Abigail and Enoch were some of the earliest pioneers of Middleburgh Township, arriving with the Silas Gardner family in 1817-1818. Enoch owned a farm along the fertile river bottom just north of Strongsville near the Gardner family.
In the census for 1820 the Watrous family included 1 son under age 10 (Franklin born in 1818); in 1830 there were 2 sons noted (Franklin and Chauncey born in 1822), and by 1840 there were 3 sons noted (the last born between 1835 and 1839) and an additional female, likely a parent of Enoch or Abigail according to the age bracket. In 1844 the county tax records showed Franklin and Enoch sharing the family farm, and in the 1850 census Enoch, Abigail, Chauncey and Joseph Green (Abigail's father) were still farming the family land. Until 1850, census records only gave the name of the head of the household so determining other family member information can be difficult. It is unknown what happened to the last Watrous son. In 1860, Enoch and Frank were living with the Chauncey Watrous family on their farm in Rockport.
Enoch served as Township Trustee in 1837-38, and again in1842. Abigail died January 20th, 1857 and Enoch died March 25th, 1862. Both were buried in the Adams Street Cemetery, but according to the Berea Advertiser, May 21, 1886: "The remains of the late Mr. and Mrs. Watrous, parents of Frank Watrous, were removed yesterday from the village cemetery [Adams Street] to Woodvale."
Chauncey Watrous married Roxanna Carpenter in March of 1851 and they had two sons; Milford and Frank born in Berea, and two daughters; Ada and Dora who were born in California. Frank Watrous married Hannah Overy Alger Lunn December 1, 1883.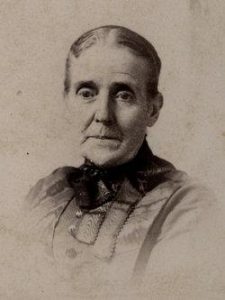 Hannah Overy had a complicated, likely difficult life prior to marrying Frank Watrous at age 63. She was born in 1820 in New York and was first married to Henry Alger (1822-1868) on May 15, 1844. They had two children; James born in1845 and Isadore born in 1850. Isadore unfortunately died in 1854 and is buried in Woodvale Cemetery. Henry unfortunately made the news with his demise:
The Grindstone Advertiser, 17 Oct 1868, page 2, column 2 MAN MISSING–Mr. Henry Alger, a resident of Middleburg tp., attended the Republican Convention, on Thursday of last week, at Cleveland, since which time nothing has been heard of him. There are suspicions of foul play. The police are investigating the matter.
Cleveland Plain Dealer, 17 Oct 1868, page 3 POLICE NOTES On the day of the great Radical parade here (the 8th), Mr. Henry Alger, a well-known farmer of Middleburgh, came into town with his son, in order to take part in the procession. Mr. Alger took a deep interest in politics, and became so carried away with the excitement of the occasion, that, although he had drank no liquor in two years (formerly he was a confirmed inebriate), he imbibed too freely, and became very much intoxicated. His son tried to take care of him, but Mr. Alger contrived to elude his guardianship, and to be lost sight of till half-past ten o'clock in the evening, when he was taken into custody by two policemen, very drunk. As he was a highly respectable man, instead of conveying him to the Central Station, they took him to a German boarding house, on Seneca street, and, after procuring him comfortable quarters in the third story, left him. A young man was a joint occupant of Mr. Alger's room. He says that the latter arose at 5 o'clock the next (Friday) morning, and went out. That was the last seen of Mr. Alger till last evening, when policeman Perry S. Green found his dead body floating in the river at O'Neil's dock, with a ghastly wound in the throat, which, it is thought, was inflicted by a steamboat wheel. The Coroner took charge of the remains. It is thought that Mr. Alger committed suicide on the spur of remorse at his disgraceful conduct.
The Grindstone Advertiser, 24 Oct 1868, page 3: BODY FOUND–The body of Mr. James [sic] Alger, who had been missing since Oct. 8, was found in the Cuyahoga Furnace Works at Cleveland, with his throat cut. It is thought that he committed suicide.
The Grindstone Advertiser, 31 Oct 1868, page 2: In our last issue we made an error in the report of the Alger murder. Instead of "James", we should have said Henry Alger, the former being the name of his son. It is known that Mr. Alger was murdered, the report of his committing suicide being a mistake.
James Alger went on to work as a carpenter in Cleveland and died of bladder cancer February 11th, 1920.
Hannah Overy Alger then married William Lunn July 4, 1869. He had been married to Lydia Gardner in1849 and had two sons by that marriage; William Winfield 1852-1922 and George Lott Lunn 1860-1930. Lydia had passed away in January of1869. William was an associate of the Berea Saving and Loan Association in 1875, worked as a farmer, and died in October of 1882. William Winfield Lunn married Josephine Fowles and farmed in Strongsville (Lunn Road). He died of a cerebral hemorrhage in August 1922, and is buried in Strongsville. George Lott married Charlotte Pomroy in 1865 and had a more complicated ending: In the 1930 census he was listed as insane and living at the Warrensville Correctional Farm. He died of arteriosclerosis and diarrhea at age 72 on September 13, 1930 and is in an unmarked grave at Woodvale in Section B, Lot 9.
From the Find-A-Grave memorial for William Lunn: What a stinker William was (and his sons just as bad). When he died, his "estate was $11,000PP and $21,000RE", but he left his wife (Hannah) begging — not a single mention. His beneficiaries were his two sons by a previous marriage, and the one who was the executor (George Lott) was a crook. They left Hannah to the "charity of friends" with not even enough money to purchase mourning clothes (important in those days) or food and warmth. All of this can be found in the Cuyahoga County Probate court, a case which wrangled on for 18 years, ceasing only in 1900 because Hannah passed away. Just goes to show that every fine monument in a lovely cemetery isn't marking the grave of a person who deserves remembering.
As noted above, Hannah married Frank Watrous a little over a year after William Lunn died, but she was without support until then and then had support only for a short time. Frank Watrous died in February 1888 and left everything to Hannah. Hannah Overy Alger Lunn Watrous was living alone in Cleveland in 1898, and died March 26th, 1900 of old age. She is buried with Franklin Watrous and his parents in Section 4, Lot 9 within sight of her other husbands.