Enoch G.Watrous was born in 1791 in Connecticut to Gideon and Fanny Franklin Watrous, and married Miss Abigail Green who was born in New York in 1791. Abigail and Enoch were some of the earliest pioneers of Middleburgh Township, arriving with the Silas Gardner family in 1817-1818. Enoch owned a farm along the fertile river bottom just north of Strongsville near the Gardner family.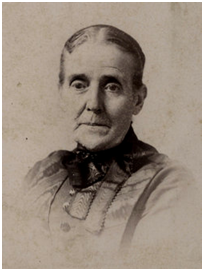 In the census for 1820 the Watrous family included 1 son under age 10 (Franklin born in 1818); in 1830 there were 2 sons noted (Franklin and Chauncey born in 1822), and by 1840 there were 3 sons noted (the last born between 1835 and 1839) and an additional female, likely a parent of Enoch or Abigail, according to the age bracket. In 1844 the county tax records showed Franklin and Enoch sharing the family farm, and in the 1850 census Enoch, Abigail, Chauncey and Joseph Green (Abigail's father) were still farming the family land. Until 1850, census records only gave the name of the head of the household, so determining other family member information can be difficult. It is unknown what happened to the last Watrous son. In 1860, Enoch and Frank were living with the Chauncey Watrous family on their farm in Rockport.
Enoch served as Township Trustee in 1837-38, and again in1842. Abigail died January 20th, 1857 and Enoch died March 25th, 1862. Both were buried in the Adams Street Cemetery, but according to the Berea Advertiser, May 21, 1886:"The remains of the late Mr. and Mrs. Watrous, parents of Frank Watrous, were removed yesterday from the village cemetery [Adams Street] to Woodvale."
Chauncey Watrous married Roxanna Carpenter in March of 1851 and they had two sons; Milford and Frank born in Berea, and two daughters, Ada and Dora, who were born in California. Frank Watrous married Hannah Overy Alger Lunn December 1, 1883.